African Olympics pavilion closes with debts outstanding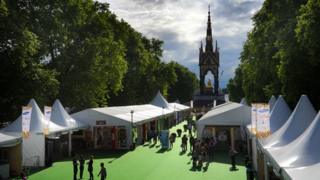 The hospitality centre in west London for African nations competing in the Olympics has had to close because of unpaid debts.
Africa Village was set up in Kensington Gardens by French events firm Pixcom.
The firm owes suppliers more than a hundred thousands pounds, its spokesman Laurent Bagnis said.
Dixy Ndalla, a stall holder at the village, said: "African countries involved here are not responsible for the closure."
It is the first time at an Olympic Games that the 53 African national Olympic Committees have come together to host one, specially dedicated house.
Located opposite the Royal Albert Hall, it has an exhibition area and restaurant open to the public and a reception area for Games officials, athletes and sponsors.
Since it opened on 28 July it has received 80,000 visitors, said communications director Mr Bagnis.
Asked if reports that £395,000 is owed are correct, he said: "We have a lot of figures. I don't know which is right at the moment."
He added: "For unforeseen reasons some of the suppliers decided to come and collect their goods and go.
"Usually issues are resolved afterwards. People don't just come and take their stuff and go."