Warning after Kiwi Olympic barbecue explosion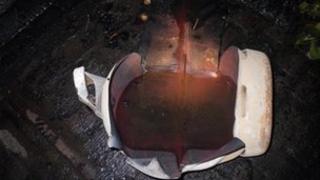 Firefighters have issued a warning after a group of New Zealanders' attempt to have a barbecue ended in disaster.
Some 700 people were evacuated from New Zealand's Olympics hospitality house near King's Cross after a gas canister exploded on Wednesday.
Two fire engines and 10 firefighters attended the scene, while one person had minor injuries.
The London Fire Brigade has warned would-be barbecuers to take extra care.
London Fire Commissioner Ron Dobson said: "Our advice is that people should enjoy themselves but take a bit of extra care.
"Make sure your barbecue is kept away from fences and sheds and never leave it unattended.
"More and more people are using gas barbecues and it is really important that the cylinders are stored safely and valves are turned off before you change the cylinder."
Hundreds of New Zealanders who have come to London for the Games had gathered for a party before the explosion.
Brook Johnstone, 55, from Port Waikato, said: "I looked around and the gas bottle had a little flame around it.
"The cook was trying to put it out and the flame just got bigger so I just said, 'Let's get out of here'.
"We got inside and everyone was evacuated."
Mr Johnstone, who is in London on holiday, said the canister exploded with such force that it blew the roof off the barbecue area.
The fire was out by 20:00 BST and crews continued to cool down two remain cylinders for another 45 minutes.