UK hiker goes missing from mountain by Lake Garda, Italy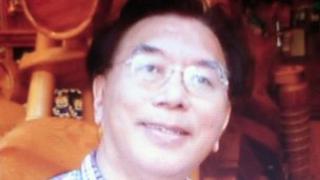 A search is under way after a hiker from London vanished from a mountain in northern Italy more than two days ago.
Felix Marr, 64, from Woodford, east London, set off to climb the La Rocca mountain, near Lake Garda, on Friday afternoon.
He sent a text from the mountain - where police sniffer dogs have found his scent - saying he was on his way back for supper.
But the retired systems analyst never returned.
Italian police and mountain rescue have been searching to no avail, along with local volunteers.
Several family members have flown to Italy to join in the search for the "loving, attentive husband".
His daughter Angie Marr, an illustrator, said: "He had been given a pair of hiking sticks as a present and he wanted to try them out.
"He's a reluctant exerciser, but he's the kind of guy who likes to try things and challenge himself.
"I can imagine him saying: 'Oh, I'll go and climb that mountain to see how far I can go'."
Mr Marr's last text was sent at 19:00 local time, and police have confirmed it was sent from the mountain.
His family are desperate to hear from anyone who spotted him that afternoon.
He is a life-long lover of Italian culture, food and opera. His family say they have been touched by the efforts of volunteers and the Italian police.
The local press has been covering the hunt, but Ms Marr says there were many British and German tourists present.
She hopes someone may have seen him who has since flown home and is unaware of his disappearance.
'Helping others'
He is of large build, around 5ft 9ins, and wore glasses, a checked, short-sleeved shirt and beige shorts.
Anyone with information is asked to contact UK or Italian police.
Ms Marr continued: "Somebody must have seen him.
"Dad is always saying that he believes in the good in people.
"He has spent his whole life helping others, both friends and strangers - please help us to help him."
A Foreign and Commonwealth Office spokesman said: "We are aware of a British national missing in the area of Lake Garda in Italy and we are providing consular assistance to the family."