Successful London driving fine appeals drop by 11%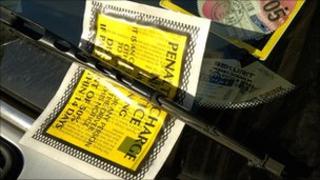 The number of motorists who won appeals against penalty charge notices (PCNs) in London has dropped by 11% in one year, new figures show.
London Councils said of the 64,903 appeals in the financial year of 2011-12, 30,865 were won by the motorist.
The previous year, 34,790 out of 69,132 were successfully appealed against. The appeals represent 1% of all PCNs.
Issues appealed against include illegal parking, driving in bus lanes and entering roads through a no entry sign.
The figures show nearly 4.9m PCNs were issued by the boroughs and Transport for London (TfL), an increase of 2% on the previous year.
London Councils' corporate director of services, Nick Lester, said: "Local authorities are looking more carefully at representations from motorists at appeals and are winning significantly more of the cases heard by the independent adjudicators at the Parking and Traffic Appeals Service.
"The total number of penalty enforcement notices issued has levelled off during the last three years but given the amount of traffic in London, it is inevitable that there will continue to be a significant amount of illegal parking."
TfL enforce traffic offences on London's Red Routes, which makes up 5% of the total road network.
Nick Fairholme, TfL's director of congestion charging and traffic enforcement, said: "Our overriding focus is on keeping traffic moving and reducing delays.
"Penalty Charge Notices are not used to raise revenue but to keeping traffic moving."