Extra 'pod hotel' space in London Trocadero approved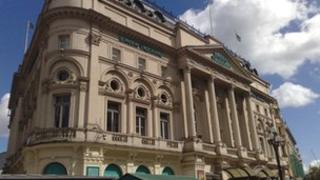 Plans for a roof-top bar and extra rooms for a Tokyo-style "pod hotel" at the historic Trocadero in central London have been given the go-ahead.
Westminster Council's planning committee approved revised plans for 583 hotel rooms, spread over seven floors, eight flats and shops.
The size of the windowless "pods" in Shaftesbury Avenue in Piccadilly will range between 9 sq m and 17 sq m.
Plans for a 495-room hotel at the Grade II listed building were passed in 2010.
The hotel is inspired by Japanese hotels which have capsules for rooms to make use of space in crowded cities.
Since the late 17th Century the site has seen theatres, tennis courts, restaurants, hotels and music halls and since the 1990s it has also been home to a 3D IMAX cinema and later an amusement arcade.
Councillor Heather Acton said: "This scheme will help to breathe new life into one of London's most famous buildings.
"The Trocadero is historically renowned for bringing entertainment to the city, and a new concept hotel will form a very welcome addition to the area, enabling more people to enjoy the vibrant West End for shopping, entertainment and culture."