Ben Woollacott Ferry death report critical of practices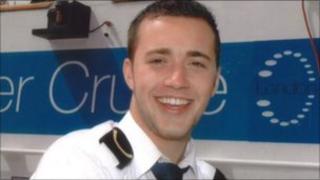 "Unseamanlike" working practices were used on a passenger ferry on which a 19-year-old deckhand died in a mooring rope accident, a report has said.
"A number of unseamanlike working practices were evident on board," the Marine Accident Investigation Branch (MAIB) report said.
Thames waterman Ben Woollacott, of Swanley, Kent, died after falling off a River Thames Woolwich ferry.
The death happened in south-east London on 3 August 2011.
There was a "lack of suitable oversight" of the unmooring operation being carried out on the Ernest Bevin ferry on the day Mr Woollacott died, the report said.
'Dragged violently'
Mr Woollacott, a sixth-generation Thames Waterman, was dragged overboard by a mooring rope while releasing lines securing the ferry to a mooring buoy.
He suffered head injuries and did not regain consciousness after he was rescued from the water in the accident.
The report said it was most likely that Mr Woollacott was dragged violently against the side of the Ernest Bevin by the mooring rope, which had become entangled in the vessel's propeller and was being wound in at a speed in excess of 20mph.
Mr Woollacott suffered severe facial injuries and was almost certainly unconscious when he entered the water.
He subsequently drowned, despite his life jacket bringing him to the surface and the quick actions of his colleagues.
"It would have been very difficult for Benjamin to adopt working practices that were at variance to those followed by his more experienced and mature colleagues," the report said.
'No risk assessment'
"The unmooring operation was a routine task but it had not been captured by the company's safety management system.
"Consequently no risk assessment for the operation had been conducted to assess and mitigate the hazards faced by the crew, and the very real hazard posed by the rotating propeller blades during the task had not been formally recognised," the report added.
"This situation was compounded by a lack of suitable oversight at the time of the accident."
A number of control measures are being taken to prevent a similar accident in the future, the MAIB said.