Olympic food market petition has 5,000 signatures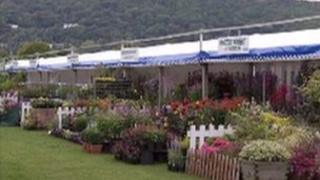 A petition demanding refunds for traders at a "disastrous" Olympic food market has attracted 5,000 signatures.
Local traders invested about £20,000 each for stalls on the new Olympia Market in Leyton, east London.
One trader said they had been "sold a lie" that 80,000 people would pass through it daily when hardly any did.
Waltham Forest Council said it had not received any money while contractors Skateco said it was "astounded" the council had distanced itself.
The petition states that traders were mis-sold pitches and that some had lost £27,000.
The chief executive of North London Business, a not-for-profit company that was one of the contractors, has resigned over the market which is near the Velodrome and Basketball arenas.
Speaking from the market site, BBC London reporter Jason Rosam said it was no longer open and that it was not going to reopen for the Paralympics which was the original plan.
Tsitsi Makoni, a carer who ran a food stall at the market, said she had lost £5,000 which she knows she will not get back.
"Right now I'm just heartbroken. I really feel cheated and robbed and I just want answers as to why we were sold a lie," she said.
In a stall holder information pack, traders were told that 80,000 people would pass through the market each day.
"We were told as Londoners that this was the greatest opportunity and that everyone was going to benefit," she added.
'Reassured'
The success of Transport for London in getting people out of the Olympic venues quickly meant that many businesses have lost money.
Traders at Greenwich Market and in central London have also complained about a loss of earnings.
A Waltham Forest Council spokesperson said: "North London Business and their partners Skateco are solely responsible for the success of their market.
"They won the ability to locate, organise, manage and run the event, receiving their income through their contracts with stall holders.
"The council has not paid nor received any monies from these organisations."
Skateco said: "Put simply, this was an idea created by the council, put out to tender by the council, presented as a partnership with them.
"Our main consideration when deciding to bid was determining whether the market could generate sufficient trade from visitors on foot to the Olympic Park. The council's public tender document reassured us on this front."