Wandsworth Council approves sale of Elliott School's play area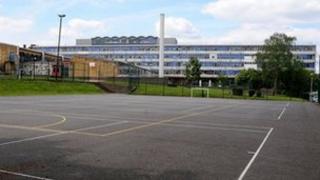 A south-west London council has decided to sell a school's land and play area despite more than 57,000 people signing a petition against it.
Wandsworth Council said Elliott School in Putney was "badly dilapidated" and needs a £30m revamp, which it hopes to fund by selling the open land.
Save Elliott School group said it was "disappointed" that 41% of the school's grounds would be sold off.
Campaigners said they were now seeking legal advice.
The decision comes days after the government announced its decision to sell 31 school playing fields, including that of Elliott School.
'No other way'
The Grade II listed building, built in the 1950s, has had repairs over the years but it does not comply with teaching or safety requirements, the council said.
A £30m refurbishment, of which £5m is available, will give it "enhanced sports facilities, enabling it to host competitive fixtures for the first time".
The 15,071 sq m site includes a car park, unused buildings, two tarmac-covered ball games court and a grassed area, including a "steep slope", the council said.
Students currently use sports pitches in nearby Dover House Road for team sports and athletics, which will continue in future.
The school will also become an academy from September and will be run by education charity ARK Schools.
Education spokesman Councillor Kathy Tracey said: "The school desperately needs a multi-million pound investment to provide the kind of teaching facilities that will allow its pupils to thrive.
'Magic pot'
"Unfortunately there is no magic pot of money available... The Elliott site is quite large and there is surplus land there that can be used to raise these desperately needed funds.
There was "no other way of raising enough money to transform Elliott", she added.
Earlier the school's headteacher Mark Phillips said students and parents had been "waiting a long time" for the decision.
Former student Jason Leech, from Save Elliott School, said: "They [pupils] will lose a good 41% of the whole school ground and that translates to about 45% of its playing fields.
"It's not a case of objecting to the refurbishment the school desperately needs... but we need to think creatively about how to fund that and there are so many alternatives to selling these playing fields."
Mr Leech said they are looking into whether it could seek a judicial review of the Department for Education's conditions to grant consent for selling playing fields and whether those conditions were met.
The group, which said 96% people consulted were against the sale, also appealed London Mayor Boris Johnson and Deputy Prime Minister Nick Clegg, who lives nearby, to intervene.