London 2012 'good for staff morale'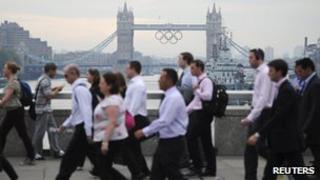 Most managers believe the Olympics did not disrupt business, while half say the Games increased morale, a survey of 1,000 bosses has found.
Two out of five firms allowed staff to watch the Games in the office, saying it helped boost productivity, said the Institute of Leadership and Management.
It found firms tested new ways of operating, such as allowing different working times for staff.
Ahead of the Games Transport for London urged a rethink in commuting routines.
The Institute of Leadership and Management (ILM) found that most managers disagreed with the view that allowing staff to work remotely would encourage them to "skive", with one in five saying it was a positive move.
'Productive and motivated'
The ILM surveyed its members nationally from 13 to 20 August, with 1,056 replying. Sixteen percent of respondents were from London.
Charles Elvin, chief executive of the ILM, said: "After such an uplifting London Olympics, it was great to discover that many organisations also felt some benefits.
"It is encouraging to find that businesses took the opportunity to trial flexible working practices."
He said managers found people were "productive and motivated".
"We hope that organisations continue to offer more flexible working which, when properly managed, is a powerful motivator and helps to attract and retain talent."
Another report by office services firm Regus found that many people who work remotely put in longer hours.
'Attitudes reassessed'
The report said there was a clear link between flexible working and productivity, although one in four of the 2,500 workers questioned said there was still a company culture of having to be seen behind a desk.
Steve Purdy, managing director of Regus, said: "Even without this summer's events, London commuters - similar to other UK cities - are only too familiar with the stress, expense and long hours associated with relying on public transport infrastructure.
"Employers in the South East may find that the temporary changes they make this summer could lead them to reassess their attitude towards the fixed workplace in the future."
However, the verdict on the impact of the Games on business in the capital has not been entirely positive.
Some businesses suggested that the Olympics deterred visitors and that their profits shrunk as a result.