Greenwich Foot Tunnel 'unusual smell' illness cause unknown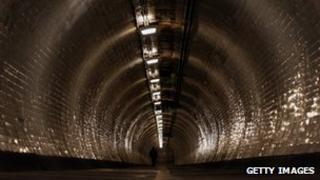 The cause of illness in seven pedestrians at Greenwich Foot Tunnel in south-east London is unknown, the fire brigade and police have said.
The patients were checked by London Ambulance Service after becoming unwell shortly before 19:30 BST on Friday.
The foot tunnel, which goes under the River Thames linking Greenwich with the Isle of Dogs, was shut for more than an hour and reopened at 20:53.
The Metropolitan Police said there had been reports of an "unusual smell".
An ambulance service spokesman said the pedestrians were assessed at the scene and did not require hospital treatment.
'Difficulty breathing'
London Fire Brigade attended the scene between about 19:30 and 21:00.
A fire brigade spokesman said: "We carried out a sweep of the area with our detection, identification, and monitoring equipment.
"Once we established there were no elevated readings we left the scene."
He said after getting the reports an ambulance crew, a cycle responder and a hazardous area response team were sent.
The Met spokesman said: "We had reports just after 19:00 BST of an unusual smell in the Greenwich Foot Tunnel.
"A number of people reported difficulty breathing, but we are not aware of any casualties.
"The cause of the smell is unknown."