Notting Hill Carnival 2012: Man critical after stabbing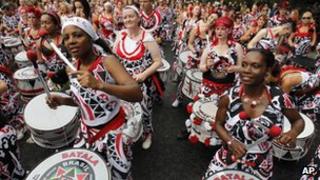 A 35-year-old man is in a critical condition after he was stabbed near Notting Hill Carnival.
Police said two men in their early 20s have been arrested and are in custody at a west London police station.
The incident happened in the early hours on North Pole Road in north Kensington.
Police, who had 7,000 officers on patrol, confirmed that 152 people had been arrested on Monday - compared with 172 on the same day last year.
Commander Christine Jones said: "It is relatively crime free when you think how many people are here and what the potential could be but actually, this is a London celebration of a diverse culture.
"People come here to have fun and we're here to support that."
The carnival, known as Europe's biggest street festival, is now in its 48th year.
About one million people are expected to have attended this year's carnival.
On Sunday, lines of traditional floats and brightly costumed dancers paraded along the three-and-a-half mile route as part of children's day, while Monday saw the main parade take place.
Organiser Vincent John, from the Notting Hill Carnival Trust, said the day had been fantastic, with lots of people enjoying themselves.