Notting Hill Carnival police make 299 arrests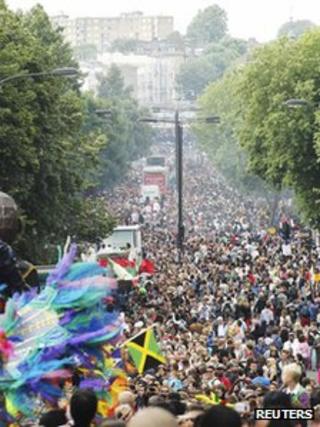 More arrests were made during this year's Notting Hill Carnival than in 2011 but the event passed largely peacefully, the Met Police have said.
Over the two-day event in west London, 299 arrests were made - 54 more than the previous year.
A group of 36 men was stopped at Kings Cross underground station at about 15:45 BST on Monday to prevent a potential breach of the peace.
There were 7,000 officers on patrol during the carnival.
The arrests made were mainly for drug and public order offences as well as robbery and assault.
Commander Bob Broadhurst said there was a "highly visible" police presence on the streets, with those intent on violence and crime met with a "swift response".
He said: "After what has already been a long summer for our officers, this Notting Hill Carnival once again required them to perform to their very best."
A man who was stabbed in North Pole Road in north Kensington on Monday remains in a critical but stable condition, police said.
The men stopped at Kings Cross, who were believed to have travelled from north London to cause trouble at the carnival, were held until police were satisfied there was no risk of disorder and then released.
The annual two-day celebration of Caribbean culture sees parades of colourful costumes and floats run along a procession route from Ladbroke Grove to Westbourne Grove and Chepstow Road.