Paralympic Games: Games Lanes reintroduced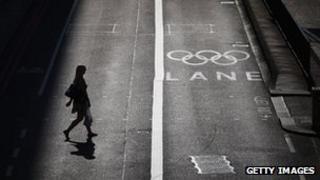 Commuters are being urged to plan their travel as the Games Lanes are reintroduced in central London.
The Paralympic Route Network is smaller than the Olympic Route Network with less than nine miles of Games Lanes in operation.
During the Olympics, a third of public transport users changed their journeys.
Transport for London (TfL) said it hoped it would be "business as normal" during the Games, but accepted that the occasional failure was "inevitable".
The Paralympic Games, from 29 August to 9 September, is the second largest sporting event in the world, with 2.5 million tickets expected to be sold.
TfL expects up to 215,000 spectators to visit the Olympic Park on most days during the event.
As during the Olympic Games, London Underground (LU), the DLR and London Overground will run an hour later, with the last trains leaving central London and venues at about 01:30 BST.
TfL said the second week was likely to see the busiest days on the transport network as the school year begins.
The Games Lanes, which will operate from 06:00 to midnight, will be run flexibly and opened to general traffic if the demand from Paralympic vehicles is low.
'Really sensible'
London's Transport Commissioner Peter Hendy CBE said: "The transport network has run as well during the Olympics as it normally does.
"We do have the occasional failure, that is inevitable, some of the machinery we are using was installed before the age of electricity so things do occasionally go wrong and I'm sure they will in the future.
"That's not a prediction of gloom or doom, it's a matter of common sense."
He also praised passengers for being "really sensible".
"They don't think a small half an hour of disruption is the end of the world, they just find another way to go," Mr Hendy said.