South London Healthcare NHS Trust's website hacked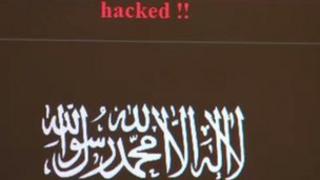 A London NHS trust had to take down its website after it was hacked.
A message was written in Arabic on the South London Healthcare NHS Trust (SLHT) website on Wednesday night.
The trust said the group responsible "appears to target websites at random, and there is no reason why the SLHT site was targeted".
The trust, which serves more than a million people in Bexley, Bromley and Greenwich, said the security of its IT systems had not been compromised.
The website said "hacked!!" in red letters and featured an Arabic inscription with a sword on a black background.
Systems 'protected'
The BBC Arabic Service said the inscription was the shahada, the one-line declaration of faith which needs to be said by those converting to Islam.
The inscription and sword on a black background are similar to an insignia known to be used by some Islamic extremist groups, the BBC Arabic Service added.
A statement from the SLHT said: "We are investigating how this has happened.
"The hacking of the site has not compromised security of the trust's IT systems, which are protected by the very secure national NHS network."
The website is now back online.
The trust was created in 2009 with the merger of three hospitals - the Princess Royal in Orpington, Queen Mary's in Sidcup and the Queen Elizabeth in Woolwich.
In July the government announced the trust, which had run up debts of more than £150m since 2009, would be put into administration.