Azelle Rodney Inquiry: Profile of man shot by police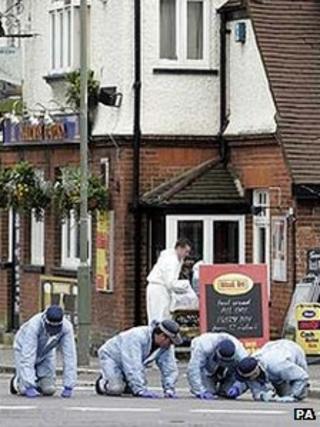 The public inquiry into the death of Azelle Rodney has begun in London seven years after the 24-year-old was killed by a police marksman.
Since then there have been investigations, widespread media coverage and calls by his family for answers as to why he was shot.
Mr Rodney was in a car that was being followed by police in a planned operation involving 25 officers in April 2005, in Edgware.
He was shot by an officer six times.
Immediately afterwards police said the dead man had been seen holding a firearm, but it later emerged this was not true.
Crack cocaine
The officer who shot him said he thought Mr Rodney was reaching for a gun.
Two other men, who were also in the car, were arrested at the scene and jailed for drugs and firearms offences in 2006.
At their trial the court heard three guns were found in the car and the flat of one of the arrested men was being used to produce drugs.
One of the men claimed Mr Rodney had used his flat to produce crack cocaine to cancel out a drugs debt.
Susan Alexander, Mr Rodney's mother, has maintained her son barely knew the two men from whom he had accepted a lift.
She said he was not a gangster and only had a minor criminal record.
Azelle Rodney was born and grew up in West London where his family say he was well-known for his athletic abilities.
He was said to be a promising footballer in his teens, whose hopes of making a living through sport ended as a result of a hip injury.
He was a cousin of Leicester City striker Jermaine Beckford.
Expectant father
As well as sport he was also interested in music and is described as spending most of his time in the gym or helping people.
He was survived by two brothers and was an expectant father at the time of his death.
His girlfriend gave birth to their daughter after he was killed.
After the trial of the two other men the Crown Prosecution Service said there was insufficient evidence to prosecute the firearms officers involved in the shooting, following a report by the Independent Police Complaints Commission.
In 2007 a coroner announced he could not proceed with a full inquest into Mr Rodney's death because of a large number of redactions in police officers' statements.
The family urged the government to change the law around secret evidence at inquests so it could proceed.
The law was not changed but in 2010 a public inquiry was opened and adjourned after the government called for an investigation into Mr Rodney's death in place of an inquest.
Earlier this year the government apologised to the European Court of Human Rights for the excessive delays in the case.
Last month Mrs Alexander said the wait to hear why her son died had had a profound effect on her life from which she did not think she would ever recover.
She said: "No one should have to wait for so many years to find out why their son or daughter died at the hands of the police."