Climate protesters target Tower Bridge Paralympics logo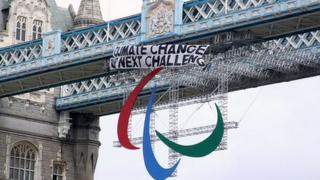 Tower Bridge was closed after an environmental group dropped a banner over the Paralympic Games logo.
The sign reading Climate change, our next challenge was placed over the Agitos at 14:00 BST, by the group Climate Siren.
Two people accessed the high-level gantry to unfurl the banner and three people have been arrested, City of London police said.
The group said it wanted global co-operation over climate change.
Transport for London said the bridge was re-opened by 15:50 BST.
Police said they arrested a man and a woman on suspicion of causing criminal damage and a public nuisance and another man for assisting them.