North Circular partially reopens after burst main flood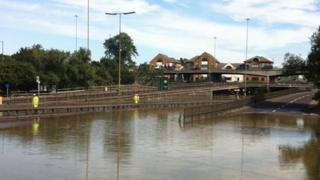 Engineers have been repairing one of London's busiest commuter routes after a water main burst and flooded the road.
Several feet of water settled on the North Circular at Brent Cross flyover on Wednesday and the road was shut in both directions during the rush-hour.
By Thursday morning, the road had fully reopened eastbound and two of three lanes had been reopened westbound.
Thames Water said the road should be fully reopened by Friday morning.
At least 1,300 homes that had been without water had supplies restored on Wednesday afternoon.
A Thames Water spokeswoman said: "This has been a complex job due to a large gas pipe which runs next to the water pipe but we managed to get this done in the early hours of this morning.
"We are also about to reopen Tilling Road which runs adjacent to the A406 and was damaged in the burst. This should further ease the traffic congestion.
"The repaired pipe should be back in service by lunchtime today and then we will need to get the most damaged section of the road on the west-bound carriageway resurfaced."
The resurfacing should finish by Monday, the spokeswoman said.