Squatter evicted from Lisson Green estate using new law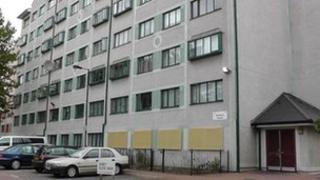 A squatter has been evicted from a flat in central London after Westminster Council used new eviction powers.
The council had been trying to evict the squatter from Lisson Green estate in Marylebone for four months, using the civil courts.
But when a new law which allows local authorities powers to remove squatters by complaining to the police, the council was able to evict the man.
The council believes it is the first authority to use this law.
The new Legal Aid, Sentencing and Punishment of Offenders Act 2012, came into force on 1 September.
Prove trespass
It gives the police powers to evict squatters if they are satisfied the claim is genuine.
Previously homeowners, including councils and housing associations, had to go to a civil court to prove the squatters were guilty of trespass before they could be evicted.
The eviction was handled by CityWest Homes, the council's housing management provider.
A council spokesman said the squatter was living in a one bedroom flat, which is due to be merged with a neighbouring two bed flat to make it into a family home.
'Faced lengthy battles'
He said he had furniture, laptop and a large LCD TV at the property.
Councillor Jonathan Glanz, the council's cabinet member for housing and property, said: "Councils and ordinary hardworking people across London have for too long faced lengthy legal battles to get their homes back from squatters.
"With these new powers, we have been able to recover a property from a squatter who was depriving a family in desperate need of a home, in a much quicker time than was previously possible.
"We will not tolerate the illegal occupation of our homes and will work with CityWest Homes and the police to take action where we need to."