Man jailed for Battersea fridge killing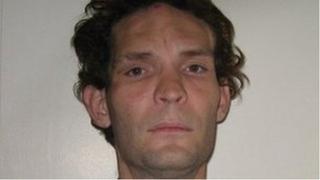 A man has been jailed for a minimum 24 years for killing a harmless acquaintance by dropping a fridge on to his head.
Cameron McFly, 38, was found guilty at the Old Bailey of murdering Richard Ward, 37, of Battersea, south London, in November 2011.
Judge Paul Worsley jailed McFly, of Herlwyn Gardens, Tooting, south London, for life.
Danny Samuel, 35, of Herlwyn Gardens, Tooting, was cleared of murder.
McFly had taken Mr Ward behind a store in Clapham Junction to rob him of money to buy drink, the court heard.
'Cowardly attack'
He knocked him to the ground and kicked him before returning with the fridge which he dropped on Mr Ward's head.
"He was harmless and no threat to you," the judge told McFly.
"You knocked him to the ground and kicked him senseless.
"You then armed yourself with a fridge and dropped it on Mr Ward's head.
"It was a senseless and cowardly attack."
Following the trial, Det Ch Insp Cliff Lyons said: "This was a particularly sadistic murder that took place over 35 minutes during which the victim was led away to a secluded spot off a busy high street, and then subjected to unprovoked, sudden, repeated and sustained violence.
"His attacker left and returned to the scene on five separate occasions, even taking a drink break at a local supermarket during this awful incident."