£25m allocation for faster London broadband speeds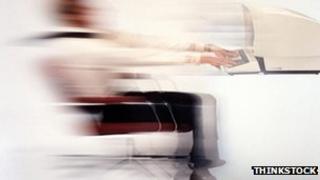 London is to be awarded £25m from a £100m Treasury pot of funding to increase national broadband speeds.
Chancellor George Osborne announced in March that London would become one of 10 "superconnected" urban areas.
He pledged to create 100Mbps (megabit per second) citywide networks in 10 urban areas by 2015.
Mayor of London Boris Johnson said it would enable the city to compete with international rivals.
'Ambitious plan'
He said it would take "ultrafast broadband access" to around an extra 92,000 residential and 17,200 business premises.
East London's Royal Docks and Tech City in Shoreditch are earmarked for attention in the mayor's plan, with the aim of attracting high-tech investment.
Mr Johnson said it was "an ambitious and innovative plan to provide crucial digital infrastructure improvements".
The funding is the maximum amount London could have been awarded through the Department for Culture, Media and Sport's Superconnected City Fund.