Barbara Windsor gets vocal for London Poppy Day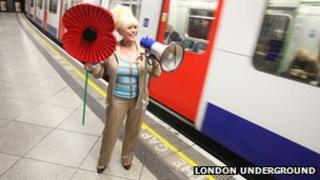 Actress Barbara Windsor will be lending her vocal support to London Poppy Day to help raise £1m.
The former EastEnders star will ask Londoners to dig deep for the Royal British Legion with a recording that will be played at key central London Tube stations on 1 November.
She said it was an "honour" to be asked to help.
More than 2,000 volunteers will collect at 70 Tube and mainline railway stations on the day.
Ms Windsor said: "I'm thrilled to be standing shoulder-to-shoulder with those who serve and helping to raise awareness of London Poppy Day.
"It's an absolute honour to be the voice of the Tube on the day."
The Royal British Legion fundraising work helps to care for members of the armed forces and their families.
Russell Thompson, the legion's director of national events and fundraising, said each year London had doubled the amount it raised on the day.
"At a time when pride in the capital has never been higher, London Poppy Day is a chance for Londoners to show their support and gratitude for those who serve.
"In 2011 we hit £450,000 and this year we're aiming to hit £1m."