Peter Westropp inquest: Falling masonry caused death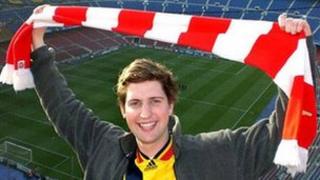 A man was killed by a piece of falling masonry as he sat with friends on the terrace of a restaurant and bar in south London, an inquest has heard.
Peter Westropp, 27, was having drinks at Le Bouchon Bordelais in Battersea Rise, Battersea, when he was crushed on 10 August 2011.
Mr Westropp, from Bromley, was pronounced dead at the scene, Westminster Coroner's Court heard.
His father John said his son's death had left "a gaping hole in our lives".
Sam Hufton, Mr Westropp's friend, told the inquest he first noticed something was wrong when he heard a "crunch" and the table seemed like it had collapsed.
Mr Westropp had a blank expression on his face, he said.
"Fluid was coming out of his mouth...he rocked back in his seat. I looked back at his face and it was basically lifeless."
'Severely shocked'
Another friend, Simon Mantell, told the hearing he was hit on the shoulder before noticing his friend had been struck on the head.
He said: "His eyes were heavily bloodshot...he was looking towards me but there was no focus."
Mr Westropp described his son as a social and popular young man who loved going out and travelling the world.
"We have learned a large amount about his life since his death. Six hundred and fifty people were at his funeral. There were all severely shocked by his death."
Mr Westropp said a memorial trust had been set up in his son's name and his friends had bought a plaque in his name at Arsenal's Emirates Stadium in north London.
The inquest was adjourned until Friday.