Man suffers burns in suspected Chelsea gas explosion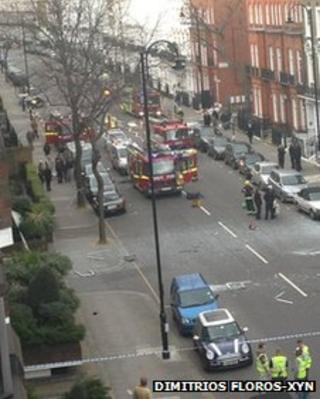 A man has been taken to hospital with a head injury and burns after a suspected gas explosion and subsequent fire at a flat in central London.
Emergency services were called to Pier House in Oakley Street, Chelsea, at about 16:20 GMT.
The blast happened in a flat on the sixth floor of the seven-storey block. About 50 people were moved from the building and a neighbouring block.
The man, in his 30s, was taken to Chelsea and Westminster Hospital.
His condition is not thought to be life-threatening.
Eyewitness James Tippetts said: "We heard a massive bang and weren't too sure what was going on, so we ran up to the stairwell and as we came out, we saw smoke.
"The guy was injured, we didn't know if anyone else was in the flat so we ran, climbed through the door, and it was just blown out. Everything was destroyed."
Ryan Kiernan added: "As we were running through there was a guy came out of the double doors with a gash to his head, bleeding quite seriously."
Four fire engines, paramedics and 20 firefighters attended.
Initially it was reported that four people had been injured, but London Ambulance Service said paramedics examined three other men in an adjacent flat who were found to be unhurt.
A Metropolitan Police spokesman said building work was under way at the block at the time.
A Kensington and Chelsea council spokesman said the National Grid was investigating.
"Residents have been evacuated to Chelsea Old Town Hall which will remain open until they are allowed back into their homes," the spokesman said.
Some of the residents were also taken to a nearby Mercedes-Benz showroom.