Swiss Cottage school building delay 'causing distress'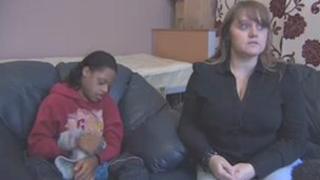 Parents of children whose new school has yet to open have said the delay is causing their offspring distress and upset.
Swiss Cottage Specialist SEN School was due to move into a £24m new building four months ago.
But following months of delays, the children have still not moved in.
Susan Morris said her son Darrell had been pulling his hair and scratching and biting himself.
"It's just the stress of it all and the unknown, you just don't know where you are," Ms Morris said.
"I've actually had to go back on to anti-depressants because I'm just so fed up with the whole scenario."
A Camden Council spokesman said that under the contract, the developer Bam Construction was responsible for sourcing, co-ordinating and paying for temporary classrooms if the building was delayed.
He said the company had failed to do that, or to provide an alternative location for classes and that the council had been forced to organise alternatives itself.
'Major setback'
Lessons have been held in temporary classrooms since the start of term, the spokesman said.
Bam Construction said it was paying for the temporary accommodation.
The council and school said they were "frustrated and disappointed".
Angela Mason, the authority's cabinet member for children, said the school was initially meant to be ready in June, and then at the beginning of term in September.
"Since this term we've had two more delays, the school was meant to be ready yesterday but the water tests showed that the water wasn't safe so in that situation we couldn't bring the children in," she said.
Bam Construction said the insolvency of a contractor which had been responsible for the mechanical and electrical work had caused a major setback at the end of May.
Barbara Cagalane, from the company, said: "We've been doing everything we can to provide alternative accommodation and to minimise the disruption.
"We've been working in Camden for 140 years, we're well dug into the community here so we will look into everything as reasonably as we can."
She said the building would be ready in days.