Falling masonry death of Peter Westropp accidental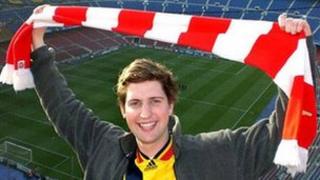 A coroner will contact authorities about potentially dangerous buildings after a man was killed by falling masonry at a restaurant in south London.
Peter Westropp, 27, of Bromley, was having drinks at Le Bouchon Bordelais in Battersea Rise when he was crushed on 10 August 2011.
The coroner said Mr Westropp had suffered "devastating head injuries".
An inquest jury on Tuesday returned a verdict of accidental death.
Jurors decided the specific cause of the falling masonry could not be determined.
However, the stability of ornamental stones attached to the front of the 130-year-old building had been "degraded" over time because of the absence of and corrosion of metal ties, they said.
'Much-loved man'
Jurors decided the weight of a safety chain securing a canopy to the front of the restaurant may also have had a destabilising influence.
Westminster Deputy Coroner Dr Shirley Radcliffe said she planned to contact the relevant authorities to encourage "more preventative measures" to identify potentially dangerous buildings.
"He [Mr Westropp] was obviously a much-loved man, a sociable, happy, outgoing individual who had a huge number of friends and who will be sadly missed by his parents and brother," she said.
"He undertook a lot of outdoor adventures and loved skiing.
"He had travelled to every continent except Antarctica and made countless friends during that period."
She said it was "touching" a memorial trust had been set up in Mr Westropp's honour.
The inquest heard Mr Westropp, who worked as a surveyor, planned to return to the restaurant to celebrate his 28th birthday the weekend after his death.
Expert witness Dr Stuart Matthews, from the Building Research Establishment, inspected the restaurant building following the fatal incident.
He told the hearing the rusting of metal ties which secured the ornamental front of the building was likely to have created "rust jacking" and caused the masonry to move.
The weight of the awning attached to the front of the restaurant, at least 40-50kg (88-110lb), was also a contributing factor, he said.
'Like an earthquake'
He said there was no evidence to show what had triggered the masonry to fall, and it was likely to have been caused gradually.
Residents in the flats above the restaurant described the falling masonry as sounding like "an earthquake", the hearing was told.
Friends described the horror of seeing Mr Westropp die during the four-day hearing.
Mr Westropp's father John Westropp told the coroner: "Peter is dead and we're not looking for blame.
"If you can get something to prevent this happening in the future, that is all I'm after."
An investigation by Wandsworth Council to determine whether any blame should be attributed for Mr Westropp's death is continuing, the inquest heard.