Chiswick School head calls for road review after injury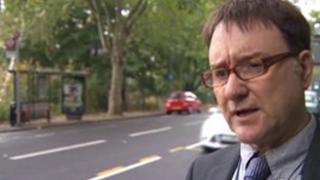 The head teacher of a 15-year-old boy left with serious head injuries after he was hit by a lorry wing mirror has called for a review of road safety.
Tony Ryan of Chiswick School in west London said it was of "great concern" that it appeared students were not safe even when waiting for buses.
Christopher Pritchard was struck on Tuesday as he waited at a bus stop on the A316.
The lorry did not stop at the scene but a 47-year-old man was later arrested.
The teenager, described by his friends as "a good lad - full of joy and truthful", was standing near the junction with Staveley Road at about 16:10 BST.
Mr Ryan said: "We will be reviewing our advice to students on using the bus stops round school in the light of this, but I would urge the relevant authorities to look again at the safety issues resulting from this unfortunate accident."
'First aid'
He said that the road where Christopher was standing, just beyond the school boundary, was four lanes wide and had no central reservation dividing the carriageways.
Local Conservative MP, Mary Macleod, backed Mr Ryan's call for a safety review.
She said she had contacted Transport for London (TfL) which manages the section of the road and the bus stop, to see if the bus shelter should be moved further away from the road.
She added that she was not aware of any concerns raised about the bus stop in the last two years since becoming MP.
She said: "We need to look at the incident properly. It must have been horrific."
Christopher had been playing football with a friend prior to waiting for a bus.
A Chiswick School PE teacher with first aid training gave him emergency resuscitation, said Mr Ryan.
The teenager is being treated at Great Ormond Street Hospital and remains in a critical condition.
TfL said it was doing all it could to assist the police with their investigation.
A spokesman for Hounslow Council said that if Mr Ryan wanted to involve the council in a review of safety it would be "an exercise the authority would be happy to take part in".
The arrested man is due to answer police bail on 26 November.