Jury retires in PC Alex MacFarlane race abuse trial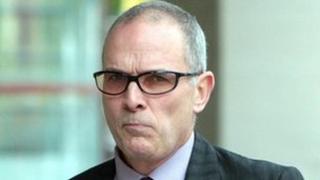 The jury has retired in the trial of an officer accused of racially abusing a suspect days after the riots in London last year.
Alex MacFarlane, 53, had denied causing racially aggravated intentional harassment, alarm or distress to Mauro Demetrio on 11 August 2011.
Southwark Crown Court heard Mr Demetrio believed he was stopped on suspicion of drug-driving because he was black.
The officer is accused of using "deeply hurtful" racist language.
Mr Demetrio made two recordings of the exchange on his mobile phone.
Mr MacFarlane said he was challenging the suspect about his language and urged him to be proud about his skin colour.
The suspect was taken to Forest Gate police station, in east London, but no further action was taken over the alleged offence.