Jamaican Olympian Arthur Wint honoured with plaque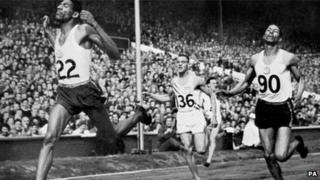 A plaque has been unveiled in London for a man who was the first Jamaican to win an Olympic gold medal and one of a "handful of Caribbean fighter pilots".
Arthur Wint, an inspiration for sprinter Usain Bolt, died 20 years ago to the day.
The tribute is at his home at 22 Philbeach Gardens in Earls Court, where he lived from 1949 to 1960.
Jak Beula who organised it called him "a complete force of nature, a superhuman".
'A phenomenon'
Mr Beula said: "He is probably still Jamaica's most celebrated athlete and we've produced a lot of great athletes. He was a phenomenon, a monster.
"He goes to Canada aged 22, teaches himself to fly and then comes to the mother country to volunteer to fly in World War II, one of a handful of Caribbean fighter pilots."
Known as the Gentle Giant, 6ft 4in Wint was 28 when he won his historic gold in the 400-metre dash at the 1948 London Olympics.
He had already seen active combat as a Royal Air Force pilot during World War II.
In 1954, he was made a Member of the British Empire.
He went on to serve as Jamaica's High Commissioner to Britain and ambassador to Sweden and Denmark from 1974 to 1978.
The unveiling of the plaque was attended by Aloun Ndombet Assamba, Jamaica High Commissioner to the UK, Mr Wint's daughter, Dr Alison Wint and the Mayor of Kensington and Chelsea Councillor Christopher Buckmaster.