Shakespeare's statue in Leicester Square restored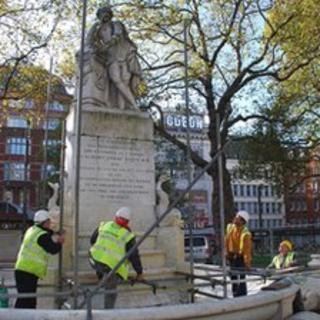 Work has begun to restore a 19th Century statue of William Shakespeare in London's West End.
The statue of the bard, surrounded by dolphins, is the centrepiece of a park in the middle of Leicester Square.
The hands and face of the marble statue will be cleaned and undergo some remodelling, Westminster Council said.
The fish-shaped stands at the side of the main plinth will also be repaired after they were damaged by repeated attempts by people to climb it.
The statue, which is Grade II listed, also has an inscription from Shakepeare's play Twelfth Night.
Scaffolding is being put up around the structure and the refurbishment project is expected to finish by spring 2013.