Covent Garden's Africa Centre may become retail premises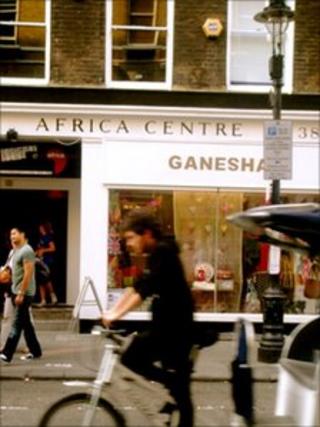 A central London building that has been an African political and cultural hub for nearly five decades could be turned into retail premises.
Managers of the Grade II listed Africa Centre on King Street in Covent Garden say the building is too expensive to run.
A developer is now trying to get planning permission for change of use.
Save the Africa Centre campaigners have urged its supporters to object to the plan at Westminster council.
The centre has hosted thousands of events, highlighting culture and conflicts on the continent.
"There is still a chance to Save the Africa Centre," a campaign spokesperson said on the group's Facebook page.
"Let it not be said that African history in London was lost to commercialism without protest."
'Enormous changes'
William Tayleur from Business of Culture, which manages the Africa Centre, said Capital and Counties, which owns land in Covent Garden, had expressed interest in buying the leasehold and was trying to get planning permission for change of use.
If the deal goes ahead, the centre intends to move to cheaper premises nearby, he said.
"The Africa Centre has been at its site since 1964, and enormous changes have happened in Covent Garden since then," he said.
"As a charity the Africa Centre cannot refuse that sort of offer."
Mr Tayleur added that the centre had had "a good few months" over the Olympics and Paralympics, and was still "very much in use".