Daniel Roque Hall supporters stage protest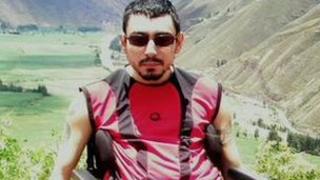 Campaigners who claim keeping a disabled man in a London prison will shorten his life have staged a protest outside the Ministry of Justice.
Daniel Roque Hall, 30, was jailed in July after admitting trying to smuggle cocaine worth more than £300,000 in his wheelchair from Peru through Heathrow.
He was sent to Wormwood Scrubs, but suffered heart failure within weeks.
The Ministry of Justice said it ensured that all prisoners had the same access to NHS services as everyone else.
An application for a judicial review regarding his case was rejected by a judge at the High Court last week.
Mr Hall who has Friedreich's ataxia, which causes loss of physical co-ordination, remains in hospital.
He has impaired speech, diabetes and a weakened heart, and was being cared for round-the-clock before he was sent to prison.
'Massive deterioration'
The judge who sentenced Mr Hall to three-and-a-half years in prison at Isleworth Crown Court asked Wormwood Scrubs for an assurance that it could meet all his medical needs.
The prison said it could.
Mr Hall's supporters were due to present a petition calling for the justice minister to review the case, which has more than 1,400 signatures, to the ministry earlier.
Meanwhile John McDonnell, Labour MP for Hayes and Harlington, has tabled an Early Day Motion calling for the Home Secretary to allow Mr Hall to serve the rest of his sentence at home.
Mr Hall's mother Anne Hall said: "His sentence, where he had to serve it, has had a profound effect on him, it caused massive deterioration and probably shortened what is already a short life expectancy.
"And that was not part of what the law envisaged and I don't think it's what society expects the law to be doing or prisons to be doing either."
A Prison Service spokesperson said: "We have a duty of care to those sentenced to custody by the courts.
"As part of that duty of care, we ensure that prisoners have access to the same level of NHS services as those in the community."