Council homes for mid-income families in affulent London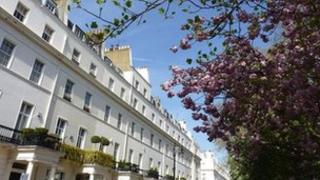 Three councils are proposing to build new homes for middle-income families to rent so they are not "priced out".
Westminster, Kensington and Chelsea and Hammersmith and Fulham want to borrow more money against their £2.4bn housing assets to build new family homes.
A £53m pilot would see 300 homes built in Westminster with tenants paying higher than the social rent level.
The councils said one problem facing them is that many new homes are bought by overseas investors.
But the Labour group in Westminster Council has criticised the initiative questioning why public assets should be used to "subsidise middle class professionals with good jobs".
Putting forward a business case to the government the councils said the pilot scheme for 300 homes would create an annual surplus of £500,000 over the next 10 years, and the asset would be worth £64m by the end of that period.
The project promises to generate 700 jobs in the construction sector, it is claimed.
'Increasing polarisation'
The rents, which would be higher than the social rents but lower than the market rate, would generate surplus which the councils hope to invest in providing employment opportunities to tenants in social housing.
The business case argues "families on middle and lower incomes are being driven away from the area" which is leading to "increasing polarisation of our communities".
"Those who remain are the high income families in home ownership and wealthy owners of under-occupied investment properties or second homes; and, at the other end of the social spectrum, those in social housing, an unacceptably high proportion of whom are unsuccessful in securing and maintaining the plentiful jobs that the area has to offer."
The councils are urging the government to allow it more flexibility to borrow money against its housing stock of 4,000, which is valued at an estimated £2.4bn.
Councillor Jonathan Glanz, cabinet member for housing and property in Westminster, said: "This proposal is all about giving those hard working people on average salaries at least some chance of living in Westminster.
"At present they are simply priced out, so Westminster - like other parts of central London - becomes a property world polarised between the very wealthy and those in affordable housing.
"We need to continue ensuring that we provide for a wide range of people and maintain mixed communities, including middle class people on middle-range salaries."
Councillor Paul Dimoldenberg, leader of the Labour Group at Westminster Council, said: "Why are public assets being used to subsidise the housing costs of middle class professionals with good jobs?
"Westminster Conservatives have told those on low incomes that living in Westminster should be regarded "as a privilege, not a right".
"But this seems not to apply if you have a job and are middle class, when the council will use public resources to provide you with a home you can afford."