Mayor defends himself after Ian Duncan Smith challenge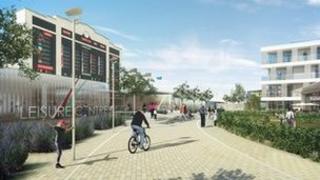 London Mayor Boris Johnson has defended his decision to back the redevelopment of Walthamstow dog track in east London after he was criticised by fellow Conservative Iain Duncan Smith.
On Tuesday the mayor allowed a plan for 294 homes and a leisure complex to be built at the Grade II listed stadium.
Mr Duncan Smith said he was "absolutely furious" and criticised Mr Johnson's decision-making.
Mr Johnson said the plan promised homes, jobs and growth.
'Moribund option'
Mr Duncan Smith, Work and Pensions Secretary and MP for Chingford and Woodford Green, said on Wednesday: "This is a bad decision and I have constituents of mine saying 'What's the point of Boris?'."
He said he believed leaders had to take "tough decisions".
Speaking on BBC London 94.9, Mr Johnson said: "He's entitled to his view as a good local MP representing the views of at least some of his constituents."
He said there had been no viable plan to reinstate dog racing at the site and that the evidence suggested it would not have been that popular.
'Eyesore'
He said: "After years of toing and froing we had to make a decision. It was going to start to decay and become an eyesore and I think it was better to go ahead.
"The second problem is that had I overruled it and said, 'We will throw this thing out' I would almost certainly, as the GLA, have been challenged and we would have lost.
"My advice was that we would have wasted hundreds of thousands of taxpayers' money on political grandstanding to suit people who hoped an option which was moribund would be put to the public."
The plan involves converting the listed Tote building, using the centre of the track as a communal garden and using the 1930s kennels as a community room and caretaker's office.
The stands which are not listed will be demolished.
Waltham Forest Council approved the plan in May, but as a development of strategic importance to London it was up to the mayor to allow it.
Mr Johnson denied that he tended to approve all strategic proposals that come before him.
The plan is now subject to any action the secretary of state may wish to take.
London & Quadrant Housing Trust has said the dog track plan will bring £50m investment into the borough, including £3.8m to improve local leisure, education, health and transport facilities.