Firefighters protest against cuts at Westminster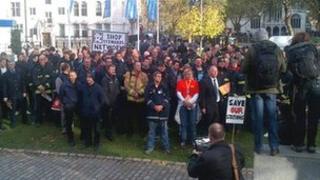 Firefighters have held a demonstration at Westminster to warn of what they describe as the "growing threat" to the fire service by government cuts.
The Fire Brigades Union (FBU) said it wanted to raise awareness of the "deep damage" caused by spending cuts.
Seventeen fire stations face closure in London with many more under threat across the country, it said.
The government said the FBU was "wrong and trying to scare the public with its partisan campaigning".
The union said the fire service was already "cut to the bone".
It said about 1,500 frontline jobs had been axed since 2010, with plans for a further 6,000 losses by 2015.
General secretary Matt Wrack said fire stations and fire engines were under threat.
"The government is acting as if it has nothing to do with it," he said.
"It's all down to the local fire service, but it's the government that's slashing budgets so fire authorities haven't got what they need to provide the service the public deserve.
"That means stations will close, fire engines will be axed and firefighters' jobs will go if planned cuts go ahead unchallenged."
The union organised a lobby of MPs after the rally.
'Wilful scare-mongering'
A spokesman for the Department for Communities and Local Government said: "The FBU is wrong and trying to scare the public with its partisan campaigning.
"It is disgraceful to suggest that sensible savings cannot be made in areas like procurement, joint working and tackling outdated working practices.
"Their wilful scare-mongering overlooks that fire-related deaths and arson have been falling and continue to fall.
"Every part of the public sector needs to play its part in cutting the deficit we have inherited from the last administration."
The spokesman said the government had protected frontline uniformed services as much as possible.
"Fire and rescue authorities only need to make savings of 2.2% of their spending in 2011-12 and just 0.5% in 2012-13," he added.
"There is significant scope to deliver these without harming the quality and breadth of the service that the public receive."