Merchant banker is sworn in as Lord Mayor of London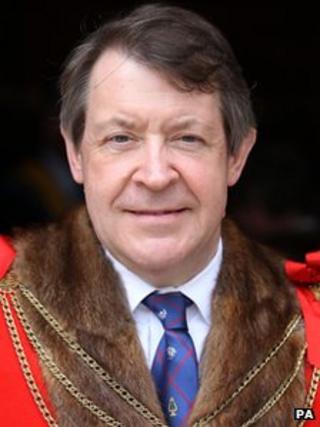 A merchant banker has been sworn in as the Lord Mayor of London - the first in eight years to have a background in banking.
Roger Gifford, who works for Swedish bank SEB, was formally admitted to office, becoming "chief salesman for the City for the year".
He said he intends to champion London's banking sector as it prepares for a 20-year low in financial workers.
He will be handed the City insignia at the Silent Ceremony at the Guildhall.
'Ghastly banking mistakes'
The Lord Mayor is elected on an annual basis for a one-year term in office. The position is unpaid and apolitical.
Mr Gifford is the first Lord Mayor with a background in banking since the crisis of 2007. The last was Michael Savory in 2004.
Mr Gifford said: "I'm going to try and point out all the good things about banking."
But he conceded "dreadful", "ghastly" mistakes had been made.
He said: "Ninety-nine percent of bankers do a useful, socially important job. They supply the cash for infrastructure.
"You can't build a hospital or a road without banking.
"There have been huge changes in the last two years to remuneration, board structures, liquidity."
He added: "The city per se is about much more than just banking, it is also maritime, law, accounting."
City job numbers are expected to fall to their lowest level in 20 years next year as banks and investment houses make cuts, according to the Centre for Economics and Business Research.
'Boom to come'
Mr Gifford said: "Banking is a cyclical business and tends to follow the way the economy moves."
He said he was of the belief the slump would lead to technological innovation and the "start of a great boom".
"I'm sure the banking jobs will come back."
Mr Gifford said he took part in a "surreal" dress rehearsal for Saturday's Lord Mayor's Show at 03:00 GMT on Wednesday, complete with golden coach and horses.
He said people on their way home and on their way to work saw the "extraordinary apparition".
Mr Gifford has served on several of the committees of the City of London Corporation.
In his new role he will travel around the UK and abroad to promote the City.