Damian Devine jailed for attempted murder of policeman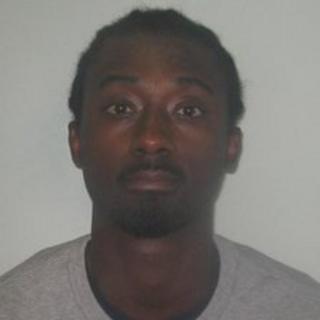 A man has been jailed for 21 years for trying to murder a police officer.
Damian Devine, 27, of Allder Way, South Croydon, was found guilty of shooting PC Wayne Stevens by a jury at Kingston Crown Court last month.
He has been sentenced to 21 years for attempted murder and five years for possession of a firearm, to run concurrently.
The attack took place in Kingsdown Avenue, South Croydon, on 15 July last year.
A Metropolitan Police spokesman said residents in Kingsdown Avenue spotted three men hanging around, taking photographs of themselves on their mobile phones
One of the residents called 999 and a police unit including PC Stevens arrived.
Two men were arrested and Devine ran off, pursued by PC Stevens.
Devine turned and fired two shots, one of which hit the officer.
The force spokesman said PC Stevens suffered a serious arm fracture and nerve damage, that required surgery.
The officer was unable to return to work for four months, he added.
The cases against Demar Provan, of no fixed address, and Adewale Ogunsanya, of Hazel Court, Leigham Court Road, Streatham, south London, who were arrested in connection with the incident, were discontinued last year due to a lack of evidence.
Devine's brother Jason Anpomah, from Castlereagh Place, Belfast, pleaded guilty to assisting an offender at Belfast Crown Court in October.
Belfast Crown Court heard he gave his relative, who is also known as Emmanual Anpomah, sanctuary in Belfast, knowing of the murder attempt.