Man jailed for life for killing wife in front of son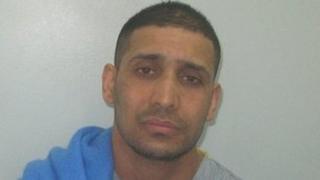 A man who stabbed his wife in front of their two-year-old son and left him with the body has been jailed for life.
Sheikh Shahidul Islam, 35, attacked Rushna Begum, 28, at their home in Devas Street, Bromley-by-Bow, east London, in May, the Old Bailey heard.
Islam then fled to his relatives' house leaving their youngest of two sons with the body. He pleaded guilty to murder.
The killer, who the court heard was a gambler, was sentenced to a minimum of 14-and-a-half years in prison.
The court heard that their 10-year marriage began to break down in 2009 because of Islam's gambling as he had lost up to £90,000 over the years.
This included the profits from the sale of his takeaway shop and the sales of his wife's jewellery and car.
Prosecutor Peter Kyte QC said the couple had debts of more than £30,000 and had been taken to court by creditors in 2011.
Violent relationship
The pair had regular arguments about their money worries and Mrs Begum had told her housing manager: "I'm extremely concerned about my safety and the safety of my children as my husband has on numerous occasions threatened to kill me."
She had also filed a formal complaint with the police in 2011 saying he threatened her with a knife during a fight, the court heard.
In February this year their families intervened and met with the pair.
During the meeting Islam accused her of having an affair but then "begged" her to forgive him.
Weeks later he threatened to kill her during another row.
On the day of the murder they had an argument, during which the killer claimed she told him she had "broken my promise", which Islam believed to be her admission of having been unfaithful, the court heard.
He said he had stabbed her but did not realise their son was at home. He went to his relatives in Luton and was later arrested.
When officers arrived at the council flat they found the child crying next to the body.
Sentencing Islam, Judge Brian Barker, the Common Serjeant of London, said: "Your addiction to gambling has led to your downfall, misery and finally disaster.
"There is nothing the court can do or say to turn back the clock."
In a victim's impact statement read in court, Mrs Begum's uncle said: "The children have had their whole world turned upside down."
Mrs Begum's mother was caring for the children, but the youngest child suffers from nightmares and was affected by the colour red, the court heard.