Southwark couple sleep out for charity before wedding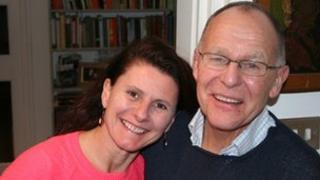 A couple from south London spent the night before their wedding sleeping in a cathedral to raise money for a homeless charity.
Louise Delaye and Geoff Hand joined 150 others at Southwark Cathedral to "sleep out" for the Robes Project.
The couple were back at the venue earlier to take their vows, after first meeting Robes volunteers.
They learned about the event after their wedding date was fixed. Guests are donating to the charity.
Ms Delaye, 50, and Mr Hand, 67, from Elephant and Castle, took part in their first sleep-out last December for the charity, which provides shelters for homeless people between London Bridge and Croydon.
Family visit
The couple met who met as volunteers for the Robes Project in 2007.
Mr Hands said: "We then became engaged and in late summer we fixed our wedding date as 1 December.
"A week later we realised that the Robes Sleep Out was the night before."
He said the couple could not have failed to do it.
Ms Delaye, a language tutor, said the sleep out had been "a great success".
Celebrity backing
"It was a cold, cold night, it was a hard night," she said.
"We've come back to a warm house but for people who sleep rough because they're homeless, it's so dangerous.
"It's great if it raises the profile of the charity and homelessness in general."
Mr Hand, who is a professional services consultant, said: "We have said to all our guests, 'No gifts please but donate to the Robes'.
Comedian Jo Brand and Simon Hughes, Liberal Democrat MP for Bermondsey and Old Southwark, were among those taking part in the sleep out.
The Reverend Dr Janet Corlett, chair of Trustees of the Robes Project, said the £60,000 raised last year allowed them to increase the number of church venues where homeless people can seek shelter.