'Parts of London behind rest of England in GP services'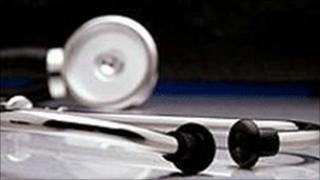 Parts of London have a below average number of people taking up childhood immunisation, flu vaccination and cancer screening, a report suggests.
The Kings Fund report also says care from GPs and people's health outcomes vary markedly across the capital.
It highlights some "excellent" examples in general practice too.
The report, General Practice in London, prepared with Imperial College London, recommends a "reconfiguring" of the service.
"Many London Primary Care Trusts (PCTs) do worse than the England average on key indicators of ill-health prevention, including childhood obesity, childhood immunisation and flu vaccination, and breast and cervical screening," the report notes.
Londonwide LMCs (Local Medical Committes), a body representing more than 6,000 London GPs, said comparisons with national average data were "inappropriate and misleading".
Twenty-two of the 25 PCTs with the lowest breast screening rates nationally are in London, according to the report.
Across a range of childhood immunisations, London has the lowest coverage. MMR vaccination coverage, for example, is 89.3% compared with 93.4% per cent across England.
The London flu vaccination rate for under-65s is 48.3%, compared with 50% nationally.
But the report shows it is not always the affluent areas that perform better than deprived ones.
In Newham in the East End, nearly 60% of those at high risk are immunised. In Havering, which covers parts of North East London such as Romford, Hornchurch and Upminster, it is just over 30%.
But Havering GPs perform well when it comes to breast screening.
Nearly 80% of women are being screened - almost a quarter more than in Hammersmith and Fulham.
Professor Roger Jones, responding for Londonwide LMCs, said the ability of London practices to achieve in communities with over 150 languages and "rife" socio-economic deprivation, was "to many people's minds, little short of miraculous".
He said childhood vaccination, flu vaccination and cancer screening programmes face "considerable challenges" in London where evidence suggests low uptake is due to poverty, language difficulties and ethnicity.
The report also highlights London's higher rates of low birthweight babies, teenage pregnancy, childhood obesity, HIV, serious mental illness and suicide, compared with national averages.
Dr Michelle Drage, chief executive of Londonwide LMCs, said: "There are a number of positives in this report, but sadly most of these are obscured by the focus on the national average, as opposed to comparisons with other large cities."