Jo Brand hosts winter charity swim for the homeless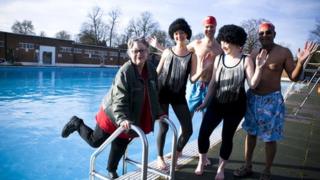 Comedienne Jo Brand has hosted an outdoor winter swim to raise money for the homeless.
She encouraged about 350 people to jump into the cold water at Brockwell Lido in south London to raise funds for the charity Crisis.
Proceeds from the event will go towards the Crisis at Christmas project, which provides services for the homeless over the festive period.
The money will also fund the charity's Skylight centres across the UK.
Brand said: "I'm happy to cheer on any courageous soul who's crazy enough to join in the Crisis Midwinter Swim in December."
Crisis chief executive Leslie Morphy said: "Without the generosity of our dedicated supporters, Crisis at Christmas simply wouldn't be possible.
"Every brave soul who takes part in this will be making a real difference to vulnerable Londoners at a time of rising homelessness."