Boris Johnson warns Stephen Greenhalgh over 'touching' claim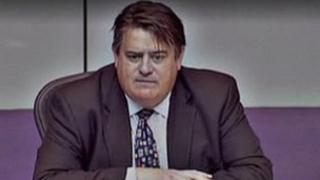 London Mayor Boris Johnson has given "very firm advice" to his deputy mayor for policing after he was accused of inappropriate touching.
A female official claimed Stephen Greenhalgh had behaved inappropriately towards her last month in a City Hall lift.
Mr Johnson said there would be no further action against his aide as there was "no conclusive evidence".
The deputy mayor has said he had "no recollection" of the alleged incident.
But in a statement last week he said: "Nonetheless I would like to apologise unreservedly for anything that could be or may have been construed as inappropriate behaviour on my part."
The female official is understood to have told a colleague about it but she has never made a formal complaint.
An inquiry was conducted to see whether the issue amounted to a "conduct matter".
Deputy 'not questioned'
In a letter to the Mayor's Office for Policing and Crime (Mopac), the monitoring officer for the Greater London Authority, Ed Williams, said the female staff member said she considered "the core elements" of what had been reported in the media to be "true" and "there was contact".
But he added: "It is also the case that I have not questioned the deputy mayor for policing and crime about the alleged incident, as I do not consider that to have been a necessary part of this process.
"I have decided that the conduct of the deputy mayor for policing and crime did not on this occasion amount to a 'conduct matter' as defined above. I will not therefore be recording or referring the matter to the IPCC.
"However, in taking into account the views of the member of staff, I have been obliged to consider that the conduct of the deputy mayor may, inadvertently or otherwise, have fallen short of expectations, whilst noting also that no complaint has been made," Mr Williams added.
The mayor told the London Assembly: "It is certainly right for us to remind everybody in this place that there can be no inappropriate conduct of any kind in the GLA and that is the very firm advice I have given to the deputy mayor for policing in London."
Saying there would be no further action taken against Mr Greenhalgh, the mayor said: "There is no conclusive evidence here about what has or has not happened."
He also told assembly members that he had confidence in his deputy who was "doing a first rate job".