Nine Crisis shelters open for London's rough sleepers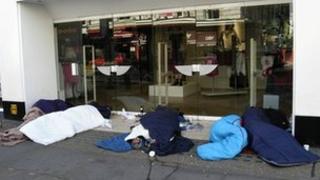 A homeless charity has opened nine shelters across London for people who are sleeping rough in the capital.
Crisis is expecting more than 3,000 people to use facilities such as hot food, camp beds and health checks at the residential and day centres.
Up to 8,000 volunteers, many of whom were once homeless, will staff the centres between 23 and 30 December.
Last year more than 3,200 visited the shelters, a rise of 7% on 2010, and 21,000 hot meals were served.
The guests are offered 20 different services, including seeing a dentist or optician, a hairdresser and clothing repair.
In June, research by the charity Broadway found the number of people sleeping rough on London's streets has gone up by 43% in a year - from 3,975 to 5,678 between March 2011 and April 2012.