Olympic stadium 'to host rock concerts by July'
2 January 2013

From the section

London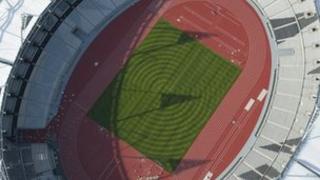 London's Olympic Stadium is set to be re-opened in July with a series of rock concerts, BBC London has learned.
Concert promoters were impressed by the live music at the closing ceremonies of the Olympics and Paralympics.
Final contracts are yet to be signed but the plan is for some concerts traditionally held at Hyde Park to head east.
Dennis Hone, chief executive of the London Legacy Development Corporation, said it was an "exciting" opportunity.
He said: "The exciting thing for us is that we have the opportunity to put on some major events in the park - some music events and festivals and an anniversary weekend on 27 and 28 July.
Noise complaints
"We hope to announce the content in the coming weeks."
Hyde Park has staged rock concerts for decades but complaints about noise levels have almost doubled since 2008.
Last year Westminster Council took a decision to reduce the number of concerts every year from 13 to nine.
The council also cut the number of people who could attend events from 80,000 to 65,000 and, in some cases, to 50,000.
A spokesman for The Royal Parks confirmed that a total of eight concerts would still take place at Hyde Park this year.
The Olympic Stadium is expected to become a major rival to London's other major concert venues - Wembley and the 02 Arena.
The area around the stadium in the south of the park with the Aquatic Centre and Orbit Tower will not be opened fully to the public until spring 2014 but the north of the park, with the Handball Arena, waterways and parklands, will be made available to residents permanently this summer.
The indoor Handball Arena, which has been renamed the Copper Box, will be used for recreational sport such as five-a-side football and badminton as well as staging professional sports such as boxing and some indoor concerts.
Football future?
Mr Hone is currently negotiating a deal for West Ham to move into the stadium, probably for the 2016-17 season after a new system of retractable seats has been fitted.
But the London Legacy Development Corporation and the Premier League club are still a long way from reaching agreement on the financial aspects of the deal because legacy chiefs want a share of any profits if West Ham's owners sell the club after moving into the stadium.
Mr Hone said he was still working hard on reaching agreement with West Ham but the corporation is exploring ways of making the stadium pay its way without football.
"The stadium is the sort of venue people want to come to. Who knows what other sports we can get in.
"If we can't get a deal with West Ham, we will make sure we can get a viable and thriving entity going forward."
A final decision on West Ham's bid to move into the stadium is expected by the end of March.