Westminster City Council seeks sex shop law change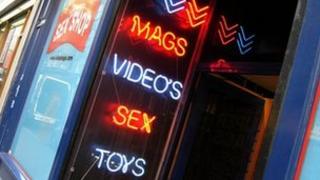 A local authority is trying to overturn a legal ruling that says it cannot use the money it receives from legal sex shops to tackle illegal ones.
Westminster City Council is challenging a High Court interpretation of a European Union directive.
The court's ruling states the licence fee councils receive cannot include the cost of enforcement.
Sex shop proprietors told the Court of Appeal licences should not cost more than what it costs to get the licence.
The legal action taken by the authority has been backed by 15 other councils.
Nathalie Lieven QC, appearing for Westminster, said the case revolved around the recent introduction of domestic regulations under the EU Directive.
Free trade
The council said domestic laws which allow the use of fees for policing purposes were being overridden by the EU legislation in a way that could "open the floodgates for illegal sex shops".
She argued the High Court had erred in law and misinterpreted the directive by stating it was not permissible for Westminster City Council to recover any enforcement costs through licence fees.
The High Court's interpretation has been of benefit to the proprietors of 13 sex shops, of which 11 were in Soho and two in nearby Covent Garden, the court heard.
Philip Kolvin QC, appearing for sex shop proprietors, said for many years the council had charged sex shop proprietors an application fee of £29,102 "per annum, per shop".
He said an overwhelming part of the fee was allegedly used to recoup the costs of investigating and prosecuting unlicensed operators.
By comparison, a pet shop licence costs £286 a year, while the biggest night club faced a licence cost of £1,905, the court heard.
'Wider implications'
Mr Kolvin said the purpose of the directive was to promote services and free trade in member states, and this included the elimination of unfair barriers such as disproportionate fees.
The judges are expected to give their ruling at a later date.
Before the hearing, Westminster's licensing chairman, Councillor Audrey Lewis said: "This has far wider implications for licensing and street trading regimes.
"It should be deeply concerning to everyone that a common sense domestic law is being overridden by EU legislation."
In the last year, it took action against 14 illegal shops which sold items such as fake Viagra and poor quality DVDs and sized 13,000 articles which were worth about £330,000.