Battersea Park revamp protesters left 'squalid mess'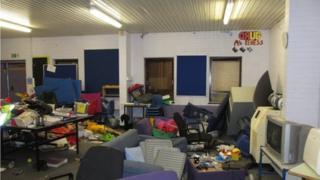 Protesters evicted from the offices at an adventure playground in south London have left behind a "squalid and disgusting mess", a council has said.
Wandsworth Council said the group who had occupied Battersea Park Adventure Playground had vandalised furniture and ransacked the building.
It says the clean-up will be an extra burden on tax payers. The occupation has already cost the council £30,000.
Occupy London protesters said they did not cause any damage.
Along with the group Wandsworth Against Cuts, the protesters are opposing the council's plans to turn the adventure playground into a facility that does not need supervision.
It has made staff redundant and plans to spend £200,000 on converting the play area.
'Pretty disgusting behaviour'
Most of the campaigners were removed from the Battersea Adventure Park building in the early hours of Wednesday, but two people remain in a section of the same building which was not covered by the court's eviction notice.
Councillor for children's services, Kathy Tracey, said: "Unfortunately these protestors have shown their true colours. Trashing a children's play building is pretty disgusting behaviour.
"They claimed they were occupying the playground for some high moral cause. But now it looks like they were more interested in making a mess and damaging things. The play building looks like a bomb's hit it."
An Occupy London spokesman said the group had been well behaved and had treated the building "as if it belonged to their family and friends".
He added he did not know who caused the damage.