Boris Johnson criticised over Rupert Murdoch dinner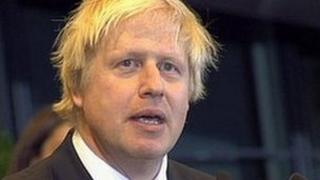 Boris Johnson has been accused of having "totally inappropriate" contact with Rupert Murdoch.
The London mayor joined guests including actor Damian Lewis at an event held at the media mogul's Mayfair home last week.
City Hall said it would not comment on the mayor's "private engagements".
Hacked Off said it was a conflict of interest as the Metropolitan Police, which the mayor is responsible for, was investigating Mr Murdoch's newspapers.
A spokesman for the campaign group, which represents some high-profile victims of phone hacking, said: "It beggars belief that anyone could describe a dinner between the most powerful politician in London and the head of News Corporation, the company at the centre of the phone-hacking scandal, as a private arrangement.
"The mayor is also in charge of the Metropolitan Police Authority and it is totally inappropriate for him to be meeting Mr Murdoch in private while the Met are carrying out an investigation into Murdoch companies."
'Never shied away'
He said that all politicians should comply with the Leveson Inquiry recommendations to publish full, up-to-date accounts of their meetings with media proprietors and editors.
"Given their past record of excessive closeness, and all the harm it has done, that is the very least the public can expect from those who represent them," added the spokesman.
Len Duvall, leader of the Labour group at the London Assembly, said: "He is the Mayor of London and has a duty to uphold the highest standards.
"Does he really think meeting for a private dinner with Rupert Murdoch is a normal meeting? What planet does he live on?"
A spokesperson for the mayor said Mr Johnson had never shied away from admitting close contacts with the News Corporation boss.
Last July, it was revealed that Mr Johnson had invited Mr Murdoch to the Olympic Games.
The mayor was also criticised in June for failing to officially declare that he had dinner with Mr Murdoch in January 2011, while in October 2012 it was revealed that he had phone calls with former News International executives Rebekah Brooks and James Murdoch during the phone-hacking scandal.
Mr Murdoch has since resigned from a string of directorships controlling his News Corporation's UK newspapers.
The Greater London Authority, which investigated claims that the mayor had not declared his contacts with Rupert Murdoch, accepted that the mayor had met the proprietor in a personal capacity.