Bin collection time slots plan for Wimbledon residents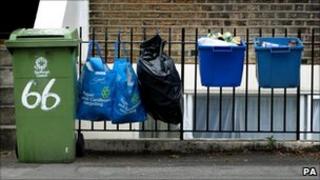 New time slots for rubbish collections in south-west London could see people having to put their bins out at 05:00.
Under the plans by Merton Council, residents in Wimbledon must put rubbish sacks out between 05:00 and 06:00 or 17:00 and 18:00 or face a fine.
The waste will then be collected over a two-hour period immediately after each time slot.
The council, which hopes to bring in the policy in April, said it would improve the quality of the local area.
Purple and blue sacks
It said an increasing number of people living and visiting the area had resulted in a rise in the number of waste sacks and bins being put out, making the streets "less attractive".
The areas which would be affected by the move are High Street, Church Road (part), Wimbledon Hill Road, Wimbledon Bridge, The Broadway, Queens Road (part), Kings Road (part), Hartfield Road (part), Sir Cyril Black Way, Merton Road, Merton High Street (part), Kingston Road (part).
Residents must put waste in council-approved purple and blue bags, at the allotted times, which would be collected between 06:00 and 08:00 or between 18:00 and 20:00.
"Any waste presented on the street outside these times will result in the producer being issued with a fixed-penalty notice," the council website says.
Anyone wanting to express views on the proposals can attend a roadshow at Wimbledon Piazza, The Broadway in Wimbledon, on 5 February.