Putney Pier redevelopment plans prompt safety fears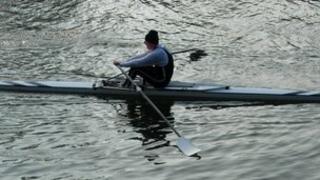 Rowers on the River Thames have raised safety concerns over plans to redevelop Putney Pier in south-west London.
An application for moorings and the creation of a riverbus berth was submitted to Wandsworth Council on 15 January.
Chris George, Thames Rowing Club safety adviser, said it could be "an unmitigated disaster about to happen".
But pier operator Chris Livett said rowers did not go through the earmarked area very regularly.
'Gravely concerned'
One rower who submitted an objection to the local authority's planning department said: "It [the plan] presents an unacceptable and high risk to rowers using the river.
"Having personally capsized at this location in its current form, I was able to drift downstream past the pier and be recovered without injury.
"Under the new proposals for multiple vessels to be moored against the pier, I am gravely concerned that in a capsize situation rowers are at increased risk of being swept under the boats and pier to death."
Mr George said the rowing channel between the pier and the bank was an inshore regulated zone which had been used by rowers for centuries.
He said following a rowing accident in 2010 which left a person needing hospital treatment, a plan was drawn up banning the new proposed route as "highly dangerous".
A number of residents have also submitted objections to council planners, saying the redevelopment would change the character of the area.
Mr Livett said he wanted to install a viewing platform for the rowing community at the Victorian pier to give them a better view, and that he wanted to try and encourage the riverbus service to come to Putney on a regular basis.
"The pier needs to grow with modern times," he said.