Chase Farm Hospital: Protest march over A&E plans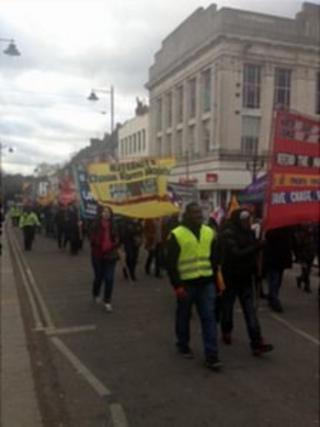 Campaigners have staged a protest march against a planned reduction in services at a north London hospital.
Plans to close maternity services and downgrade the accident and emergency unit at Chase Farm Hospital, Enfield, were approved last month.
Protesters are concerned at the distance people will have to travel for emergency care.
The government said: "Any changes to services should have the interests of local people at their heart."
The changes are part of a plan, given approval by health secretary Andrew Lansley, to reorganise hospital services.
Designed to improve and tackle inequality of healthcare, the changes at Chase Farm Hospital are scheduled to be introduced in November.
'Best care'
But the plans, which have been under discussion for several years, have faced strong opposition from health campaigners, GPs and Enfield Council.
Campaigners say they have had a string of promises about "better and bigger" healthcare but this had never materialised.
About 250 people turned out for the protest march, organised by the North East London Council of Action, from Chase Green war memorial through Enfield town centre to the hospital.
It was supported by members of Save Chase Farm campaign and the London Fire Brigades Union.
A Department of Health spokesperson said: "We are putting an extra £12.5bn into the health service by 2015.
"Any changes to services should have the interests of local people at their heart and must involve local healthcare organisations, doctors, nurses and other health professionals.
"The NHS has always changed to meet local needs and pressures - but we have now put doctors and other healthcare professionals at the heart of ensuring that patients receive the very best and safest care in the right place."