Pimlico stabbing: Tough love call over naming killers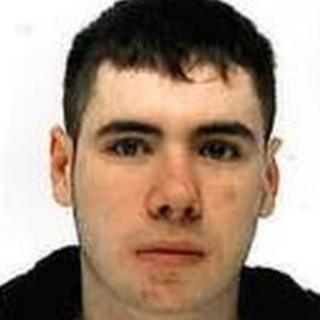 The parish priest where a boy was stabbed to death a week ago has urged families of those involved to exercise tough love and name the culprits.
Hani Abou El Kheir, 16, was killed in a suspected drugs-related attack involving at least 10 people in Lupus Street, Pimlico, central London.
Canon Pat Browne said the killers were "thugs behaving like animals" and urged people to speak out.
Four people are being held on suspicion of Hani's murder.
The two men, aged 19 and 18, and two boys, aged 17 and 16, who were arrested on Saturday, are being held in custody in various police stations around London.
Another four people arrested on Saturday on suspicion of assisting an offender have been released on bail.
They were a man aged 48, a woman of 47 and two girls aged 17 and 16, who have all been bailed until March.
'Killing ground'
Hani died from multiple stab wounds in what police said was a "horrific and sustained vicious attack".
From 18:00 GMT detectives were due to be on the Churchill Gardens estate, where Hani lived, to appeal directly to residents for information.
Patrols have also been increased to reassure the community and officers have been handing out leaflets.
In a service at Holy Apostles Church, in Cumberland Street, Canon Browne said last week the streets of Pimlico "were the killing ground of a mob".
He said: "They didn't just kill him, they hacked him to death.
"His mother Pauline has lost her only son, her only child. Life will never be the same again for her."
He went on to say there were some parents who knew the people who were part of the attack.
"If you know, speak out now in these days or forever live with the fact that you colluded and covered up for a murder," he said.
A 20-year-old man arrested on suspicion of murder on Thursday has been released on bail until March.